Algebra I introduces basic algebraic skills such as relations, function, graphing, systems of equations, radicals, factoring polynomial, rational equations, probability and statistics, and quadratic functions. This course is to help students prepare for the Keystone test and
introduce them to higher Mathematics. There will be homework almost daily.
Powered by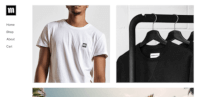 Create your own unique website with customizable templates.